2nd Digital Health
Essential
 17th May, 2023, 
Danubius Hotel Helia, Budapest, Kárpát u. 62-64, 1133
Digital health conference for public and private health care, digital pharma, and manufacturers of digital medical products and services. Join Linkedin Event. 
 
Keynote speakers 2023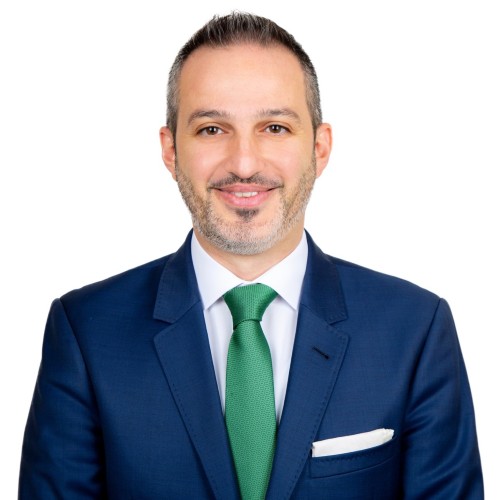 Director of Clinical & Business Improvements EMEA
InterSystems EMEA
Rami Riman leverages clinical best practices across multiple healthcare disciplines through engagement with InterSystems solutions. In his role, Rami works to improve hospital workflows to ensure patient safety, improve efficiencies and increase system adoption. Rami has extensive consultancy experience in healthcare IT, including change management consultancy, professional accreditation, hospital workflow management, and realizing a return on investments. Prior to InterSystems, Rami had 10 years of clinical experience across multiple hospitals in the US, UK, Lebanon and UAE. Rami's passion remains in increasing patient engagement to improve community's health and awareness.
Rami holds a B.A. from the American University of Beirut in Biology, a Doctorate in Medicine from St. George's University School of Medicine and a master's degree in infectious diseases from the University of London. Rami is board certified in Internal Medicine and Medical Oncology.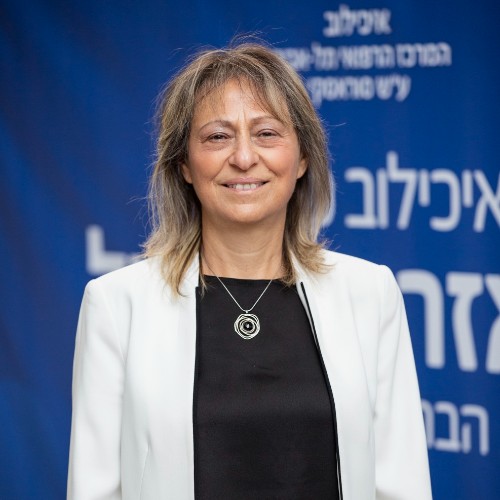 Dep. Dir. For Information & Operation
Tel Aviv Medical Center (Ichilov Hospital), Israel
Dr. Esther Saiag is serving as the Deputy Director for Information & Operation at the Tel Aviv Medical Center (Ichilov Hospital) Israel since 2007; she is a Certified System Analyst since 1988, serves as a member of The Israeli National Council for Digital Health and has more than 30 years of experience in Medical Computerization.
Dr. Saiag (Lieutenant colonel) has graduated her Medical Studies on 1985 at the Military Academic Reserve, IDF. She completed a Master's degree in Industrial Engineering and a Master's degree in Continuing Medical Education. Dr. Saiag is a specialist in Pediatrics as well as in Health Care Management. She was the Founder and Head of the Clinical Patient Record Project in IDF, Medical Corps and today is leading the Steering Committee for Implementing EMR at all Israeli Governmental Hospitals.
Dr. Saiag's keynote presentation at Digital Health Essential 2023 will take the audience to a fascinating tour through various digital technologies and processes, part of them already embedded and others planned, all the way to fully embracing the concept of Digital Hospital of the Future, already here and now in Ichilov medical center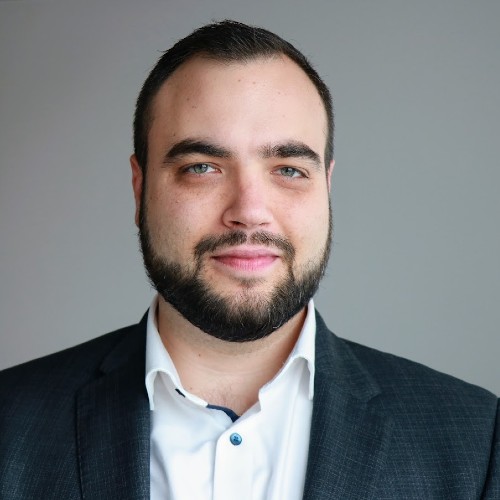 Managing Director
ESZFK Nonprofit
From 1 February 2023, Roland Tolnay performs the executive duties of the Health
Informatics Service and Development Centre Nonprofit Ltd. (ESZFK)., He is a specialist with
an engineering degree in IT and previously gained experience in the field of e-public
administration in the construction of IT systems related to state administration. From 2015,
he participated in the strategic planning and professional implementation of numerous e-
public administration projects at the Deputy State Secretariat for Information Technology of
the Ministry of Interior. From 2018, he performed his duties as the Head of the Department
at the Ministry of the Interior, since 1 March 2021, he was involved in the development of
the electronic public administration as the Managing Director of Kopint-Datorg Kft., a
subsidiary of NISZ Zrt. Roland Tolnay is committed to supporting the implementation of the
goals outlined in the central development of eHealth.
In 2022, Roland Tolnay won the "Young ICT Manager of the Year 2022" award.

The Digital Health Essential was May 30th, 2022. We had 260 guests and one conference room.
The Digital Health Summit brings together public and private health care, digital pharma, and manufacturers of digital medical products, venture capitalists ynd startups from around Hungary, to network, exchange ideas and to become more familiar with opportunities in Hungary. Our independent conference will become a significant event for many companies in the DH industry and is particularly important in Hungary given the explosion of business and entrepreneurship in the region.
Digital health is the convergence of digital technologies with health, healthcare, living, and society to enhance the efficiency of healthcare delivery and make medicines more personalized and precise. The discipline involves the use of information and communication technologies to help address the health problems and challenges faced by people under treatment. These technologies include both hardware and software solutions and services, including telemedicine, web-based analysis, email, mobile phones and applications, text messages, wearable devices, and clinic or remote monitoring sensors. Generally, digital health is concerned about the development of interconnected health systems to improve the use of computational technologies, smart devices, computational analysis techniques, and communication media to aid healthcare professionals and their clients manage illnesses and health risks, as well as promote health and wellbeing.
Digital health is a multi-disciplinary domain involving many stakeholders, including clinicians, researchers and scientists with a wide range of expertise in healthcare, engineering, social sciences, public health, health economics and data management.
Who attends
+

Providers / Health Systems

+

Payers

+

Pharma

+

Health Tech

+

Platform Technology Pioneers

+

Big Tech

+

Investors
Why attend?
+

INSPIRED. Our speakers are leading real business transformation, driving change across the enterprise and actioning measurable digital innovation for their businesses. Get motivated from leaders and walk away with new ideas you can implement.

+

CHALLENGED. Rethink your current processes and business blueprints, the event speakers will challenge your way of thinking and allow you to realise that new methods may be your best way of moving forward sitting alongside your current beliefs.

+

TRANSFORMED. The conference agenda and speakers are put together as such to reveal insights into how some of the biggest organisations are going about digital, from real business use cases to success stories and where the challenges may lie.

+

MEET LIKE MINDED PEERS

+

NETWORKING. It's an invaluable part of events and where real value often presents itself, meeting those who are facing the same challenges and coming together to solve similar issues. Our agendas feature numerous opportunities throughout the day to meet like minded folk from various industries and backgrounds. We have previously had extremely positive feedback from delegates who have found long lasted business relationships with those who they wouldn't normally meet from opposite industries and largely seeking out the same solutions to industry wide transformation sticking points.


Sponsors

Supporters
Media Sponsors
EXHIBITORS
Program
| | |
| --- | --- |
| 07.39 - 08.39 | Registration, breakfast, networking |
| 08.40 - 08.43 | Opening - Rita Molnár (DHE, founder) |
| 08.43 - 08.59 | Telemedicine – a new form of healthcare service in the 300 most disadvantaged settlements in Hungary - Ferenc Nagy (Order of Málta) |
| 09.00 - 09.16 | Digital patient support from diagnostics to adherencend improved therapeutic outcomes. Through patient research we are looking for answers to the question of which solutions patients in Hungary today encounter, which ones workes well, understood and used, and which ones are not currently in use but would be accepted and used in the future. We also looke at who is providing these solutions to patients (healthcare providers, insurance-, pharmaceutical companies, IT companies etc.) and who could play a role in the future. - Balázs Kertész (Szinapszis) |
| 09.17 - 09.35 | From text to treatment: impact of generative AI in the future of medicine - Roland Patai, PhD (Biological Research Centre of the Hungarian Academy of Sciences) |
| 09.37 - 09.57 | Government's objectives of digital health - Magdolna Kádár, PhD (Ministry of the Interior) |
| 09.58 - 10.21 | Keynote: Healthcare Industry Developments - Roland Tolnay (ESZFK) |
| 10.22 - 10.44 | Keynote: Utilizing Healthcare Data to Generate Value - Dr. Rami Riman, MD and Attila Tóth (Intersystems) |
| 10.45 - 11.12 | coffee break, networking |
| 11.13 - 12.06 | How can digitization and data science support the improvement of healthcare in Hungary? - dr. Judit Bidló (Ministry of the Interior), Roland Tolnay (ESZFK), Zsombor Szirmai (Novartis), Hatem Lemia (AstraZeneca), Moderator: Anna Danó (Népszava) |
| 12.07 - 12.37 | Keynote: The Future Digital Hospital Already Today at Ichilov: Data driven, Intelligent & Personalized - Dr. Esther Saiag MD, MHA, MSc (Tel Aviv Medical Center, Ichilov Hospital, Israel) |
| 12.38 - 12.58 | Get ready for the future – genetic testing and a fully digital patient journey as cutting-edge tools for personalised health care. - Tamás Póda (Synlab) |
| 12.59 - 13.59 | Lunch, networking |
| 14.00 - 14.46 | Digital Patient, Digital Doctor - During the conversation the participants of the roundtable discussion will explore the possibilities of shifting the doctor-patient relationship into the digital space. They will overview how digital technologies change the way patients interact with their healthcare providers. They will consider the most significant challenges that patients and general medical professionals face in their interactions in the current digital era of healthcare? Furthermore, the participants will address the most important factors within patient-doctor, doctor-hospital/healthcare provider interactions in order to improve patient outcomes and reduce healthcare costs abroad. - Dr. Attila Végh, MD (Eurohealth), Attila Tóth (Intersystems), Dr. Gergely Vántus, MD (gp), Moderator: Fanni Márkus (KPMG) |
| 14.47 - 15.32 | Innovation in digital healthcare - Dr. habil. Bogos Krisztina (National Institute for Pneumology), Petra Oláh (Supercharge), PhD, dr. Mátyás Szentiványi (National Institute of Pharmacy and Nutrition of Hungary), Moderator: Hatem Lemia (AstraZeneca) |
| 15.33 - 15.55 | coffee break, networking |
| 15.56 - 16.17 | Health data and cybersecurity - Health data is practically created in the digital space today, and modern medicine uses many networked devices. This puts our health data at particular risk. The danger affects the individual, but also organizations, like hospitals, and they are important from the point of view of national security as well. Healthcare cyber security has become one of the defining factors of 21st century health security. What should we pay attention to these days so that we can keep this data safe and use it for data-driven healthcare developments. - Dr. Tamás Palicz, MD (SE EMK) |
| 16.18 - 16.39 | NIS in healthcare - sector experiences - Healthcare, as a critical infrastructure, is constantly at the center of cyberattacks, as we experienced during the COVID pandemic and the current war taking place in our neighborhood. The European Union is trying to increase the cyberdefense preparedness of the Member States and their institutions with new regulations. What does this mean for healthcare institutions? Is there work in the health industry or for private providers? - dr. Viktor Munkácsi (National Cyber Security Center NCSC-HU) |
| 16.40 - 17.25 | During the round table discussion, the participants will get a glimpse and overview of the cybersecurity situation in the healthcare sector, including primarily the expectations related to the new NIS2 regulation. The new guidelines present complex challenges to healthcare providers. The focus is on providers classified as critical infrastructures and many healthcare providers, mainly in the private sector. The Hungarian legislature reacted quickly to the challenges of the European Union: in March 2013, the Cyber Certification Act came before the parliament, in which the healthcare sector is prominently present. What opportunities does the sector have for preparation? What is the role of education and training? Are there specifics necessary to be well prepared, and in general: how can we help protect our health information so that we feel safe? - dr. Viktor Munkácsi (NKI), Dr. Tamás Palicz, MD (Semmelweis University), Attila Hartai (National Healthcare Service Center), György Jerabek (Hétpecsét Információbiztonsági Egyesület) Moderator: Dr. Tamás Joó, MD (SE) |
Companies registered for the conference
444.hu, Abbott Medical, AbbVie, Alira Health, AP Summit Now, AIRMID-MED, AmCham Hungary, Anamed, AstraZeneca, Budai Egészségközpont, Büntetés-Végrehajtás Országos Parancsnoksága, B-Xpert Agency s.r.o, Bristol Myers Squibb, Belügyminisztérium, Berlin Chemie, DeriCom Informatikai, DRH & H, Dr. Baraczka Mariann jogász, Dél-pesti Centrumkórház, DLA Piper Posztl, Nemescsói, Györfi-Tóth és Társai Ügyvédi Iroda, eHealth Software Solutions, EIT Health InnoStars e V, Egészségkalauz, Egis Gyógyszergyár, Észak-budai Szent Ĵános Kórház, ESZFK, Frontira, HARTMANN-RICO HUNGÁRIA, Házipatika, Hétpecsét Információbiztonsági Egyesület, Healthware, Hévízgyógyfürdő és Szent András Reumakórház, Hungaropharma, Hungimpex, IBT Premier Consulting, iBioScience, Ichilov Hospital, Infomix, Integramed, Instacash, Inspira Research, Intersystems GmbH, Innovatív Gyógyszergyártók Egyesülete - Magyarország, IQVIA Solutions Services, Janssen, Johnson and Johnson, JOB, KPMG, KRKA Magyarország Kereskedelmi, Konasoft, Laborpont, Legalaise, Magyar Kardiológiai Társaság, Máltai Szeretetszolgálat, Magyar Nemzet, Magyar Testnevelési és Sporttudományi Egyetem, Mária Medical, MedDeviced LLC, MediConcept, MediKix Gyermekgyógyász Háziorvosi, Merck, MindentMent, Motivive Solutions, MSD Pharma Hungary, Nagy Sportágválsztó, BBU Nonprofit, Nemzetbiztonsági Szakszolgálat - Nemzeti Kibervédelmi Intézet, NEAK, NKI, Népszava, Novodata, Novartis Hungaria, Novo Nordisk ​Hungária, OGYÉI, Omron Medistance, MDIT SZÁMÍTÁSTECHNIKAI ÉS SZOLGÁLTATÓ, NEAK, Oracle Hungary, Országos Kórházi Főigazgatóság, Országos Korányi Pulmonológiai Intézet, Pearl Hungary, Pharmazone WS, Patika Management, Pécsi Tudományegyetem Szentágothai János Kutatóközpont, PANNONPHARMA, Philips Magyarország, Prémium Pénztárszolgáltató, PwC Magyarország, Renyi Alfréd Matematikai Kutatóintézet, Ringier Magyarország, Roche Magyarország, Sanofi-aventis, Super Charge, SMP Solutions, Straumann GmbH MFT, Stratis Vezetői és Informatikai Tanácsadó, Semmelweis Egyetem, Semmelweis Egyetem Szív- és Érgyógyászati Klinika, Staplecare, Synlab, Századvég Konjunktúrakutató, Szinapszis, Szegedi Tudományegyetem, Telex, Teqtos, Thakkura, Zorkoczy Ügyvédi Iroda, Quantumread, Világgazdasag.hu, Végtagmentő applikáció Kft / MEROVA Diabetic Health, Webbeteg, QCG Consulting